Software Development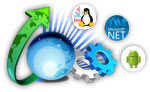 Software development is the development of a software product. We development may include research, new development, prototyping, modification, reuse, re-engineering, maintenance, or any other activities that result in software products.
With a team of professional expertise we strive to provide offshore custom software solutions development that will help you remain in step with your competition by continuously improving your information technology based business solutions.We have a professional team of JAVA, PHP, Flash Programmers, and application testers who specialize in Software Development and programming.Software can be developed for a variety of purposes, the three most common being to meet specific needs of a specific client/business, to meet a perceived need of some set of potential users, or for personal .
Embedded software development, that is, the development of embedded software such as used for controlling consumer products.